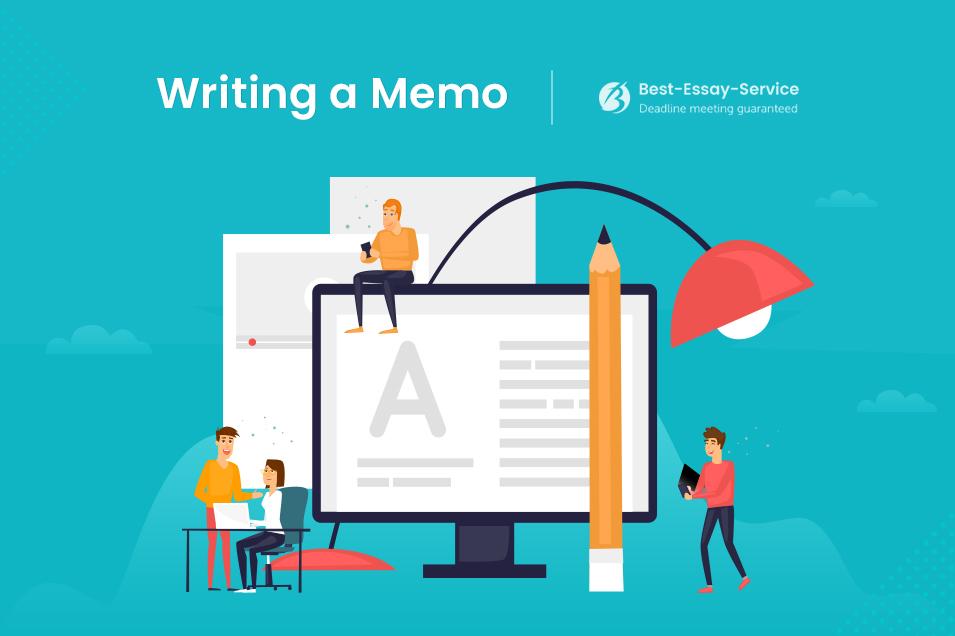 How to Write a Memo Essay
Writing a memo can be tough and time-consuming even though this document is brief and contains a few points. Still, it becomes obvious that even when you have to provide such a brief document, you need to be well aware of how to write a memorandum and how to maintain its proper structure.
What Is a Memo
First of all, before starting to write a memorandum, it is essential to understand what is a memo and what constituents it should have. It is always important to be aware of what you are writing and how to write it. So, a memorandum is written mainly in business contexts, for example when you need to convey a specific message to the employees or within a team of workers. Moreover, a memorandum is used when you want to inform employers of a specific piece of news or when you want to introduce them to some new policy, etc.
Additionally, it may be used simply when you want to convey some information at a specific meeting, etc. Apart from business settings, a memorandum may be also written as a part of a home-take or class assignment among students, particularly when students major in business and management. Therefore, it becomes obvious that it is important to be well-versed in the principles of memo writing, be it a research memo or a business memo.
What Does Memorandum Means
It is good to be aware of the memo meaning if you want to organize a successful piece o writing and be able to convey messages in a direct, clear, and concise way. As a rule, memos are written when you want to address some important matters within a work setting. Therefore, a memo is a perfect means to communicate that message without making it distorted. Find out the most important tips when it comes to memo writing:
Need custom written paper?
We'll write an essay from scratch according to yout instructions!
Plagiarism FREE
Prices from only $11.99/page
Make the memo as short as possible. It is important to be brief in what you intend to say as frequently lengthy phrases and structures distort us from the very essence of the message. Moreover, a memo has another aim – it helps people go through the most important message in the shortest time possible. It is really important to be able to grasp the important information within a few seconds rather than read lengthy documents with lots of background and irrelevant information.
Use simple English. This is not the type of document where you may want to use sophisticated vocabulary and grammar structures. The complex language will merely add up to confusion and distortion of the message.
Make sure you come up with a catchy title that attracts the attention of the audience. Still, make sure you are selective about your vocabulary choice since the title should precisely reflect what you intend to say. Here you need to be aware of the strategies of how to captivate readers` attention:
emphasize specific issues or use bold fonts. Words written in bold will pinpoint that this specific issue is worth consideration and that particular attention should be placed specifically on this point of view.
write the heading in a different color. This strategy is advisable when you want to attract attention from the distance (visually).
Carefully proofread the memo before sending it out. It is advisable to make the error completely free of mistakes, taking into account that it is brief and that it should convey a specific message most understandably.
Step 1.

Submit your paper details
Step 2.

Pay for the order
Step 3.

Download your custom written paper
Standard Memo Formats
There is a standard memo format you should adhere to. Particularly, you can find a rubric online or browse some specific business websites that provide templates for business writing. Still, even though there is a general format, the structure may vary depending on the requirements. Still, when writing a memo, take into consideration the following memo format instructions:
If you do not know how to start a memo, begin right with the heading. At the top of the page, write «memo» in capitalized letters. This memo heading is an indicator of what document you provide.
Provide the recipient of the memo, namely who the memo concerns. Since a memo is usually used in official settings, the name should be also written according to the standards of formal business writing. More so, sometimes you need to indicate titles if needed. By indicating the recipient, you will make sure the memo reaches its target audience and is read by people who it concerns.
Indicate the sender of the memo. Particularly, provide your full name, title (if applicable) as well as the position occupied by you. This is important for the readers to know where the memo comes from.
Indicate the date in the correct format. Make sure the overall format of the document adheres to the standards of a specific company or a business setting. It is really important to indicate the date as it will help to differentiate old memoranda from new ones.
After you have written the header, make sure you come up with a catchy title that grabs the attention of your target readers. The title should reflect the core message of the memo or the idea you intend to communicate across. Keep in mind that the title should be brief and concise.
After that, compose the text in a brief, logical, and succinct manner. Write in short and concrete sentences. Prefer bullet points and lists to lengthy fully-developed sentences. Make sure you write in such a clear manner that your readers will avoid confusion.
Pay attention to the formatting aspects, such as indentations, spacing, etc. Write the text double-spaced and align the header.
When working on the body of the memo, please consider the following issues:
take into consideration your target audience. Use appropriate tone and writing style depending on what your audience is. Moreover, the choice of vocabulary will also depend on the qualifications or educational background of your readers.
write specifically to the point. Do not provide any background information or explanations. Start right from the message that is important for other business persons, employees, or members of the company to know about.
if the issue needs explanations, provide them in brief. Make sure your recipients know what is going on and why the issue concerns them.
by using lists or bullet points, you will be more effective in conveying your message.
after you have explained the problem and communicated the main message across, please provide a call to action at the end of the message. Your target audience should know what they are expected of and what action they should proceed with. Sometimes you will even have to provide recommendations or additional explanations on how to implement the measures.
How to end a memo? End it with a summary of the main findings. Try to be positive in your conclusion regardless of the tone and issue of the message.
Sign a memo at the end to make it look like an official document.
Types of Memos
There are different types of memos, so you should be aware of them and take into consideration the purposes of writing. Therefore, it is essential to familiarize yourself with them if you want to be effective and successful in memo writing. Check out the following categories:
Examples of memos can be found online on specific sites or can be purchased from specific custom writing companies that also provide memo writing apart from the other academic and business writing types. As a rule, a memorandum essay example can also help a writer improve proficiency in memo writing as well as master new skills. Among the other benefits, it provides is the opportunity to plan the work better and maintain the right format. It is recommended to look through such examples because you can finally get a clear picture in your mind of what a memo is and what information should be included there. Particularly, such templates and examples are important for beginners in memo writing.
Need help with writing a memorandum? Ask our memo writing service for assistance.
---