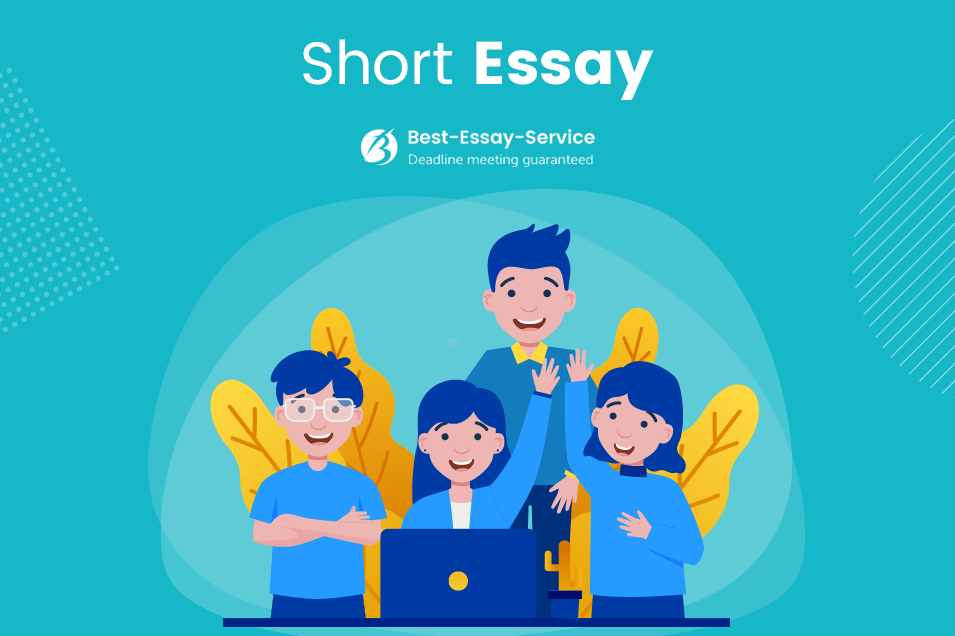 Short Essay Writing Tips
Writing a short essay can turn into a great adventure if one dares to use imagination and creative thinking. If you have some problems with short essay writing, our guide was created just for you. We assure you that our efficient tips and secrets obtained through many years of academic writing will help you polish your writing skills to excellence.
Although the professors do not assign short essays very often preferring the classing five-paragraph essays, we assure you that knowing the essential features of short essay writing, you will find it easier to cope with other academic papers.
What Is a Short Essay
If you want to obtain excellent writing skills, you should understand what is a short essay. A short essay is a literary piece that aims to present a specific idea, expose a particular topic, persuade the reader about the relevance of a particular viewpoint, etc. A short essay is usually written when the student should develop an important topic having a limited word count allowed. Compared to the classic five-paragraph essay, a short essay is shorter in length as it usually takes only half of a page. Despite the length, the guidelines for writing both essays are very similar.
Use code first15 and get
15% OFF your 1st order!
Order Now
Following the short story structure, the writer should begin with an engaging introduction, present a discussion in one or more body paragraphs, and finalize the essay with a conclusion that would make an impression on the audience. Considering the short length of the paper and the amount of information to be included in it, it becomes obvious that a short essay is rather difficult to write. Let`s discuss how to write a short essay in detail.
Write an introduction. In your first paragraph, you need to introduce your topic to the audience. To reach its purpose, the introduction for your short essay should be rather brief yet engaging. We recommend you think about the topic carefully and find out the way to make your reader follow the flow of your thoughts. Also, your introduction should contain a thesis statement.
Write a body paragraph. Very often, a short essay requires writing only one paragraph. If you want to write more, make sure to discuss this point with your instructor. In the main body of your paper, you need to analyze your topic suggesting strong arguments. To make your short essay appealing, do not be afraid to include real-life examples.
Conclude. The last paragraph of your essay aims not only to restate the ideas discussed in the essay but also to make a strong impression on your reader.
If you do not understand what should be written in each of these parts, we recommend you find good short essay examples on the web and learn from them.
Elements of a Short Story
If you want to be able to impress your professor with a fantastic masterpiece, you need to learn more about the key elements of a short story and understand how to use them appropriately.
Thesis. A thesis statement is the main idea in an essay that outlines the scope of discussion and explains the subject the writer will focus on. A thesis should be both interesting and thought-provoking. It should not be a standard phrase that is familiar to everyone. To put it simply, a thesis statement in a short story is an intriguing hook that makes the audience continue reading.
Topic sentences. You already know that your main body is usually divided into several paragraphs. However, you should also know that each of these paragraphs should begin with a topic sentence that is closely connected to a thesis statement. All the topic sentences should be supported with accurate evidence.
Supporting evidence. Every researcher knows that all arguments suggested should be supported with solid evidence. It can be the findings of other scholars, recent statistics, citations from reputed sources, or anything else.
Conclusion. When it comes to writing a very short story, the conclusion plays a particularly important role. As well as an introduction, it aims to make an impression on your reader.
The best way to finalize your paper is to summarize your main arguments in one-two meaningful sentence. Make sure your conclusion does not contain citations or new details.
Undoubtedly, before you start the writing process, you want to know how many words are in a short story. To get a clear answer to this question, you need to address your instructor directly and ask the questions that will help you cope with the task on a high level.
A useful tip: Although a short essay is not very long, you can disregard its length when writing it for the first time. We highly recommend you write a longer essay analyzing your topic properly. However, you will need to squeeze your paper later when revising it leaving only the most effective and strong ideas. If you want to succeed with your essay, make sure not to include repetitive ideas. For instance, if two sentences convey a similar meaning, try to find a way to combine them.
So, let`s summarize what you should do in your short essay.
Do:
Put your thesis statement in the introduction.
Make your essay snappy. Try to include only the ideas that contribute to exploring the topic of your essay.
Limit your evidence. You should leave enough room for the reader`s imagination.
Answer the prompt precisely. If you have to answer a clear question with your short essay, you need to follow this instruction precisely.
Condense your text whenever it is possible.
Don`t:
Try to make your short essay longer than is required. Even if you think that you include relevant and interesting information, keep in mind that limited wording is one of the integral aspects of short essay writing.
Pick up a topic that is very complex or too wide. When selecting the topic for your short essay, you should consider the nature of this assignment. Picking up a topic that is too wide, you won`t be able to make your essay short.
Write a lengthy introduction or conclusion. Pay attention that in a short essay, both these parts should be short as well.
How Long Is a Short Story
So, let`s find out how long is a short story. You need to understand that a short story should have all the components of the classic essay but in less space. Of course, the precise length of your short essay should be identified in the professor`s manual because all instructors have their requirements for writing short essays. If you cannot find this information in the guide, just ask your instructor how long should a short essay be.
To bring you the desired result, your paper should include the sentences that passed the necessity test. When doing this test, you need to read your short story sentence-by-sentence. Try to understand if the meaning of the whole essay will change if you delete some of them. If the particular sentence is not that important for understanding your message, feel free to remove it.
Simplifying the arguments is one more strategy that should be used when writing your short essay. We assure you that there is no better way to make your essay clear and comprehensive than just simplifying your arguments. As such, try not to use unknown terms and concepts that should be explained. You will reach the best result if you use clear and concise sentences.
We do hope that our suggestions helped you understand how to write a short essay. If you are afraid to do this paper for the first time, we assure you that with every new paper written, you will polish your writing skills to perfection. Thus, you will find it easier to cope with other writing tasks. After all, writing a short essay is not a problem if you organize the process properly.
Looking for a good essay service? You came to the right place. Visit our essay writing service and put your academic burden on the shoulders of our writers.
---