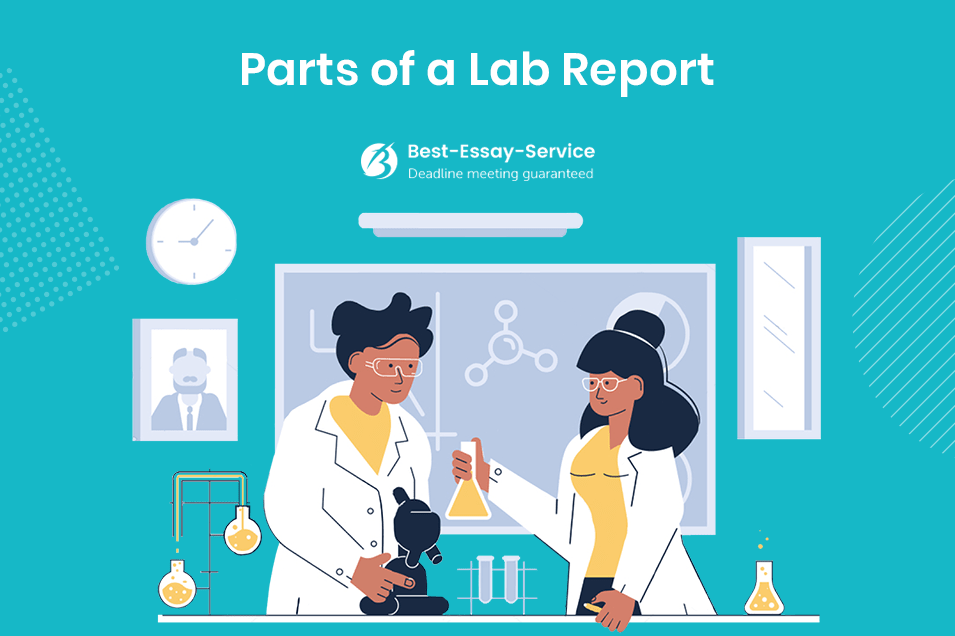 Key Parts of a Lab Report: Know the Essentials
If you need professional help with writing the parts of a lab report, you are just in the right place. Our writers have gathered and properly structured numerous secrets of successful lab report writing. But what is a lab report? It is one of the common tasks assigned to students that usually takes 20%-25% of the overall grade. Considering such a huge percentage, it is obvious that you need to treat this task attentively and take care of all its details.
Different professors have different requirements for completing this task, which makes it even more challenging. Undoubtedly, having a common pattern, the students would find it easier to follow it point-by-point. However, despite the disparities, all lab reports have the same purpose – to present the findings and evaluate their significance. When creating a lab report, you have to consider many aspects including a hypothesis, raw data, and material lists. Bearing your inexperience in mind, we are going to provide you with important information about the key parts of a lab report. Once you know the essential items of a good lab report, as well as its purpose, you will be able to adapt to the professor`s needs more easily and impress your instructor with a professional approach.
A good lab report should always present the specific data, as well as demonstrate the writer`s grasp of this data. Indeed, mere recording and observation are not enough to get a good grade. You should also:
Explain how and why variances occurred;
Explain how these variances affected your experiment;
Illustrate your understanding of the concepts with credible and relevant examples.
Besides, you should not forget about the proper format of your lab report. Of course, the content of your lab report has the greatest value, but do not forget that your ideas should be expressed coherently and organized carefully.
How to Create a Lab Report Cover Page?
There are specific requirements for writing a lab report cover page. It is a front page of your document that provides the reader with the title of the experiment, the name of the experimenter, the date of the experiment, as well as the course the lab report was written for. The title of your lab report should be straightforward and efficient, telling your target audience what is your lab report about. Make sure to avoid informal language. Besides, your lab report heading should be very informative and include one-two sentences summarizing your results. Keep in mind that your cover page for the lab report is the most viewed part. Since it will be viewed by many researchers, it should include the right portion of information.
Need custom written paper?
We'll write an essay from scratch according to yout instructions!
Plagiarism FREE
Prices from only $12.99/page
Example of a good lab report title:
"The Effects of LED Lighting on the Rate of Growth of Green-Leaf Lettuce: The experiment describes the factors being manipulated, the parameters being measured, and the subject of the experiment itself."
Examples of a bad lab report title:
"Biology 110 Lab Experiment #4." Such a title lacks the description of the experiment, and the reader gets no idea what the lab report is about.
"Different ways of the influence of caffeine on the human body." Not enough information about the experiment, as well as the use of informal language.
How to Create a Lab Report Abstract?
Though being always underestimated, a lab report abstract is a very significant part of your lab report. To put it simply, it is a condensed version of your lab report that focuses on the key ideas and findings. An abstract for a lab report is usually rather short and takes not more than 200-250 words. An abstract usually summarizes the research question or a hypothesis, the methods, and materials used in the experiment, as well as indicates the key findings and conclusions.
A useful tip: To create a good abstract, start working on it when the lab report is written. It will help you identify the key details needed and focus on them.
How it works

Step 1.
Visit our order form page and provide your essay requirements

Step 2.
Submit your payment

Step 3.
Now check your email and see the order confirmation; keep it and use for future reference

Step 4.
Log in to your personal account to communicate with the support and the writer

Step 5.
Download the finished paper

Step 6.
Provide customer satisfaction feedback and inform us whether we did well on your task

How to Create a Lab Report Introduction?
A lab report introduction should present the key objectives of your experiment to your reader and indicate your hypothesis. In this section, make sure to answer the following questions: why did you conduct this experiment? What problems did you try to solve? Also, you need to provide your reader with the background information about your experiment, as well as the relevant theories that facilitate the understanding of the nature of your experiment. To write a good introduction, you should refer to the literature gathered. We assure you that careful work with credible sources is an integral part of writing a successful lab report introduction. When working with your sources, do not forget to cite them carefully using the referencing style required by your professor.
In the second paragraph of your introduction, mention the questions you are going to study in the main body of your lab report, but try not to be too detailed. The details about these questions should be revealed in the following sections of your lab report. At the end of your introduction, make sure to include your hypothesis. Not all professors require writing a hypothesis, so we recommend you double-check this point with your instructor. Alternatively, you can find good lab report introduction examples online and find out how such a section should be written.
So, let`s summarize. A good lab report introduction should include:
The topic of your lab report;
The discussion of the key concepts discussed within your lab report;
The purpose of your experiment;
Your hypothesis (optional).
How to Create a Lab Report Methods Part?
A lab report methods section is usually called "Procedures" because it describes the methodology of the experiment conducted by a researcher. In other words, you need to explain the methods and materials used in your experiment. In this section, you need to be very detailed about what you have done so that your reader could reproduce your experiment. As such, make sure to include information about the temperatures, measurements, and timing. You do not need to provide a list of all the materials and equipment used, but you should mention them in the course of your narrative. As your experiment is already completed, make sure to use past tense in your lab report. For instance, "We have found the following properties of this element ..." Once again, your methods should be detailed enough so that your professor and your classmates could repeat your procedure.
How to Create a Lab Report Discussion?
Your lab report discussion section gives you a field for elaborating and interpretation of your results and findings. The key secrets of writing a good discussion section are as follows:
Start from restating your hypothesis emphasizing whether you have managed to prove or disapprove it;
Expand your discussion by mentioning the findings of other researchers;
Suggest the original ideas and interpretations of your studies;
Suggest some improvements that could facilitate the process of experimenting with your professor and classmates. If you received a negative result in your lab report, do not worry. It is an absolutely normal practice. However, in such a way, make sure to explain what were the reasons for such a result.
Your discussion is the field for demonstrating your understanding of the experiment. Use this section to tell your observations, as well as the problems encountered in the process of the experiment.
How to Create a Lab Report Conclusion?
Writing a lab report conclusion is the most difficult, but at the same time, the easiest part of your lab report. It is the most difficult part because it makes an impression on your audience. It means that even if the content of your lab report is great and your experiment was rather successful, a weak conclusion can significantly reduce your chances of getting a good grade. However, many students consider a lab report conclusion to be the easiest part since it does not require including new information, just restating the key results and findings and pointing out their relevance. If the experiment failed, make sure to discuss the possible reasons for that in your conclusion. Also, tell your reader what could be done differently to achieve the accuracy of the results.
If you are not sure how long should a lab report be or have some questions about your appendix lab report, feel free to address your instructor and ask about it? We guarantee that the thorough following of the professor`s requirements will make you closer to the desired outcome.
Need custom written paper?
We'll write an essay from scratch according to yout instructions!
Plagiarism FREE
Prices from only $12.99/page
To summarize, a lab report is a scientific document that describes a particular experiment and evaluates its significance. Usually, it gives a formal report of the hypothesis and identifies the methods used to experiment. When reading your lab report, your professor needs to understand each of your ideas. As such, clarity and coherence are integral techniques that should not be ignored. All in all, a good lab report does not only present the data; it also demonstrates the writer`s understanding of the data, as well as the concepts, results, and finding behind this data. You can find many examples of lab reports online, but we assure you that your professor definitely has specific requirements for its writing, so you need to follow them precisely if you want to get a good grade.
Lab report writing plays a pivotal role in your development as a researcher. We highly recommend you not to underestimate its value, as a lab report is a perfect instrument for improving your research and critical thinking skills. If you do not know how to start a lab report, just follow the structure mentioned above, and you will be able to achieve an incredible result!
If you are looking for someone, who can write your lab report, just ask for help from our lab report service.
---